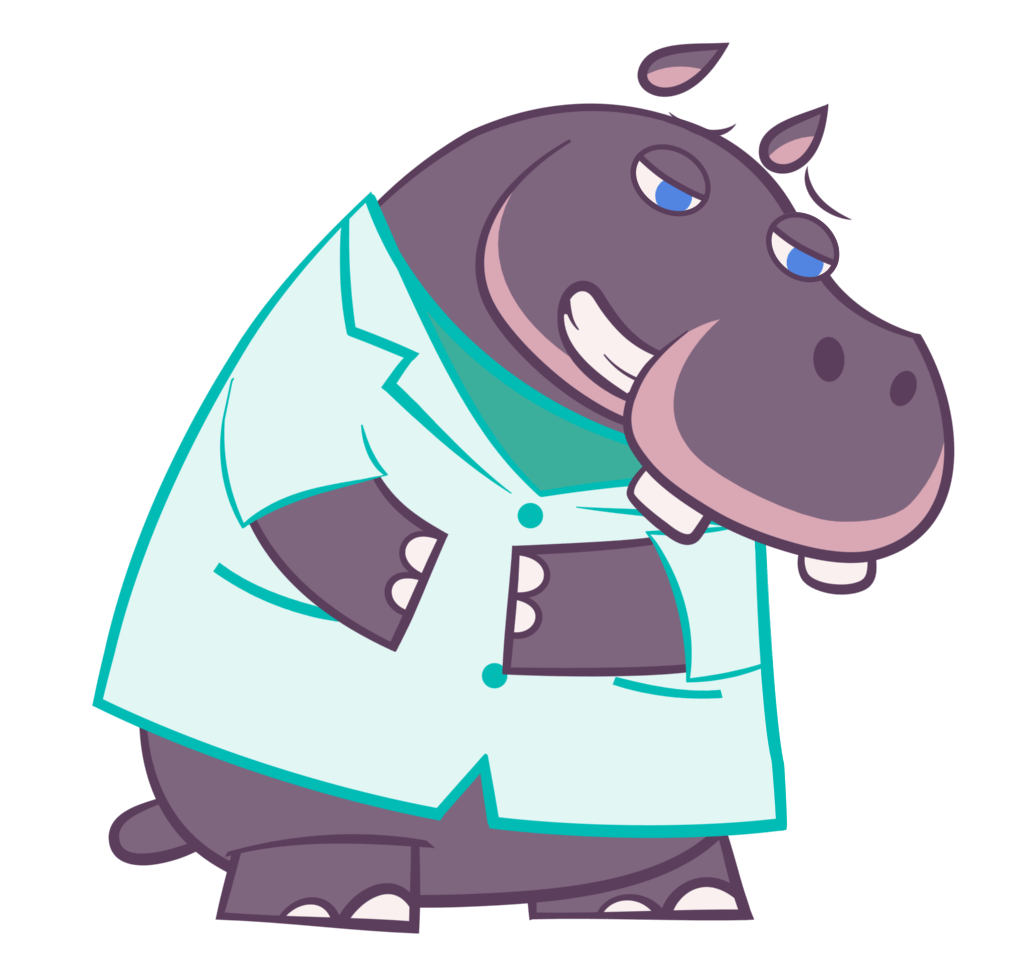 Hippo Crat
Background
It is not known very well what his studies are, but surely he has not been a great student. In fact, we don't even know why they let him exercise in each of the episodes. Crat always ends up demonstrating his lack of knowledge which, together with inexperience, has been on the verge of causing misfortune to more than one patient. However, he carries a very important message: no one has to be discouraged by poor results or failures, what matters to learn is to strive and persevere. Indeed, Crat, despite being confused at times, never gives up.
Objectives
In fact, this is the strength of Hippo Crat: his passion for medicine and desire to help others make him a winner and this despite all the problems stemming from the lack of preparation that we will see during the series. His perseverance is a quality highly appreciated by everyone, especially by Croco Doc.
Character
Shy and in a state of eternal blush for his many mistakes. In fact, he is the ideal companion for Croco Doc, because, thanks to him, his mentor can demonstrate all his wisdom. Crat, after all, is just one more spectator of Croco Doc's performances. The hippopotamus is clumsy and boorish, but humble and sincere. He is always quick to acknowledge his mistakes and tries to correct them even though, truth be told, it costs him more than expected.
Relationship with other characters
One might think that, given the demonstrated incompetence, relations with Croco Doc are a bit tense, and that if, on the one hand (Croco Doc's) there may be a bit of nervousness due to the reiteration of the apprentice's mistakes, on the other (Crat), frustration could often make you give up. But nothing of the sort happens. Crat and Croco Doc are basically two good friends. Both recognize and accept the distance between teacher and student. Fortunately, there is no misunderstanding to alter the serenity of this seemingly incompatible couple. It will not be unusual to see them together even outside the clinic, perhaps at some event or social event.
Aspirante a atleta, Crat es consciente de que no es realmente un campeón y de que tiene que cuidarse para quitarse de encima algún kilo de más, pero como se sabe, entre el dicho y el hecho... En efecto, a pesar de sus buenas intenciones, Crat prefiere una buena siesta en el sofá que ir a pasear o dar una vuelta en bicicleta. También en esto, se encuentra con la amable reprobación de Croco Doc.